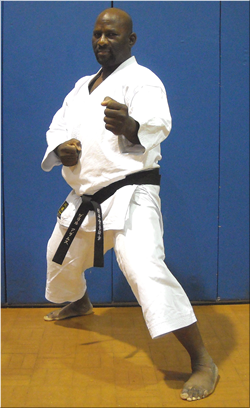 Darryl D. Adams, Go Dan
(5th Degree Black Belt)
Chief Instructor – JKA Atlanta Shotokan Karate Club
Q. When did you start taking karate?
A. I walked inside a dojo for the first time when I was 15 years old. I was invited by Larry Chase, a childhood friend and brown belt in Isshinryu karate, to take the free introductory
Q. How long did you study Isshinryu?
A. Only 5 weeks, the first of which was free. My dad told me that he would pay for the first month but I'd have to cut grass or find some other work to pay for the lessons thereafter. Both then and now, working in the sun never appealed to me; so, I stopped.
Q. When did you start practicing Shotokan?
A. Shortly after I stopped training Isshinryu. Mildred "Millie" Kattawar taught the beginners class at the Greenville YMCA. I received my first lesson in Shotokan from her. I trained with her for about 3 months; after which, I was allowed to move up into the "regular" class which was taught by her husband, Jerry Kattawar Sr.
Q. Have you trained with anyone else?
A. Yes. I'll tell you about Jimmy Shamoun first. He is the reason I chose to attend Delta State University . I wanted to further my education and continue training Shotokan. Already a shodan (black belt), Jimmy instructed the DSU karate club. I was a 6th kyu (green belt) when I began training under Jimmy during my freshman year. I remember his classes very well; they were grueling. We trained in a windowless room, on a carpeted floor, upstairs in the old hospital building on the DSU campus. Its only activity occurred on Tuesday and Thursday nights when the karate class met. There was electricity, but no air conditioning in the summer and no heat in the winter. You can imagine the poignant smell of the dirty, sweat-drenched carpet during the summer months. Jimmy graduated in May of 1982 and I tested and was promoted to shodan (first degree black belt) in June of 1982. Thanks Jimmy!

That old hospital was condemned the next year. That's when the Kattawars decided to rent a commercial site in the city of Cleveland for a karate club. Initially, either Millie or Jerry Kattawar Jr., aka "little Jerry", would make the 35 mile drive from Greenville to Cleveland to teach. Eventually, it was only "little Jerry". I trained under him until I moved to Natchez, MS in July of 1985. He was a very disciplined and an inspiring instructor. He prepared me for the nidan (second degree black belt) test which I passed in June of 1985. A month later, I moved to Natchez, MS. It was during this time that I had the fortune of training under Takayuki Mikami at his JKA of Hammond dojo in Hammond, LA.

Mr. Mikami is a hachi dan (8th Degree Black Belt) and Chief Instructor of the All South Karate Federation. I was not a full time student there; but, I trained in Hammond as often as I could while living in Natchez, MS, an almost two hour drive away. In June of 1987, I moved back to Cleveland, MS, having accepted a job offer to work in the Division of Student Affairs at DSU. My training had come full circle. I was once again training at the Greenville YMCA. Collectively, the Kattawars prepared me to successfully take the sandan (third degree black) test in 1988 and the Yondan (4th Degree Black Belt) test in 1993. Passing the Yondan test was highlighted by the fact that the chief examiner during that year's annual International Shotokan Karate Federation (ISKF) Master Camp was Mr. Motokuni Sugiura, the Chief Instructor of the JKA/WF (Japan Karate Association / World Federation).
Q. How long have you been teaching karate?
A. I opened my first private dojo, the JKA of Natchez, in 1985 when I accepted a job offer to teach at the Natchez-Adams High School. It was a great experience! The majority of my karate students were either enrolled at the high school where I taught Spanish or members of the First United Pentecostal Church where I worshiped when I lived in Natchez.
Q. Where else have you taught?
A. As I stated earlier, I moved back to Cleveland, MS in 1987. That's when I resumed training with the Kattawars. "Little Jerry" was juggling a hectic schedule as a full time UPS driver and instructor of the Cleveland Karate Club. I taught whenever he couldn't make it to class. I'm not sure when; but, at some point, the Kattawars asked me to assume the role of instructor. I taught at that commercial site until I was given permission to teach karate on the DSU campus through the Office of Continuing Education. That same semester, with the support of O.W. "Wig" Reilly, Dean of Student Affairs and Dr. Gene Wilder, Chairman of the HPER Department, I developed a syllabus and was granted permission to teach karate as an elective (½ unit) course in the Health Physical Education and Recreation (HPER) Department. I also taught for a short while at a satellite location twice a week in the nearby town of Pace, MS.
Q. When did you open the JKA Atlanta Shotokan Karate Club?
A. I didn't. The karate club was already in existence before I moved to Georgia. I believe the sequence of instructors was Brian Rich (one of Takashina sensei's first students), followed by Rob Redmond (24 Fighting Chickens.com) and finally, Dan Arner and Kent Wang, who shared instruction. I began training with the club when I moved to the Atlanta area in 1994. Shortly thereafter, I was asked by the current membership to assume responsibility for instruction and become the Chief instructor of the club. The name, JKA Atlanta Shotokan Karate Club, was adopted a few years later.
Q. Any interesting stories from your many years of training?
A. Yes. If I may, let me share with you part of a story that Sensei Teruyuki Okazaki, Chief Instructor of ISKF, recounted in a lecture he gave during the annual ISKF Master Camp. Sensei Okazaki had taken the dan (black belt) exam and was awaiting the announcement of the results. After his name wasn't called, he was given permission to speak with the examiner, Gichin Funakoshi. Mr. Okazaki asked him what he needed to do to improve, having failed the exam a second time. Mister Funakoshi replied with these two words: "keep training". I had a similar experience. I took the godan, 5th degree black belt, exam in November of 2003 and was given a 3 month re-exam. I wasn't really bothered, having reasoned that I had not been promoted because I slipped on the carpet while performing the kata, gankaku. When I took the exam again during the 2004 ISKF Master Camp, I was given a 6 month re-exam. That troubled me because I felt better prepared than I was when I tested a year earlier; yet, I was given an even longer re-exam time than before. When Sensei Okazaki called my name and said "re-exam 6-months", my head dropped and I wanted to collapse in the chair. At that moment, a friend who had accompanied me to the lecture given by Mr.Okazaki earlier during the camp leaned over and whispered to me, "keep training". I'll never forget the impact of hearing those words at that precise moment.
Q. When was your last promotion?
A. I tested for godan during the 2005 ISKF Master Camp.
Q. What are your thoughts about the ISKF now that it's independent of the JKA/WF?
A. I can't think of any reason why I would ever not hold Mr. Okazaki & the ISKF membership in the highest regard! It saddened me deeply when the two organizations reached an impasse; and, I guess I will feel a sense of loss during the first week of June for many years to come. Spending the week at Camp Green Lane was the highlight of my life, each year that I attended Master Camp over the 30 plus years that I have trained. The most valued friendships that I have include people I met years ago and trained alongside during that week. I don't know of any other venue that could boast of bringing together the likes of Mr. Okazaki, (the most active living student of Mr. Funakoshi), Mr. Mikami, (the first graduate of the JKA instructor training program), Mr. Yaguchi, (in my experience, his understanding and delivery of karate pedagogy might be unparalleled), and other senior instructors from around the world and the USA who have their own unique aptitudes like James Field ( my self appointed mentor). Every rank test that I have taken was conducted under the auspices of the ISKF. For that, I will always be grateful.
Q. You've instructed several hundred students over the years; any success stories?
A. Yes! Let me start by saying that there was a core group of students who trained under Jerry and Millie Kattawar at the Greenville YMCA when I started; little Jerry, Joe Muzzi, John Boone, Jimmy Shamoun, Charles Henderson, James Jeffcoat, Bill Staten, and Raymond Sabatini. Their character and training tenacity always inspired me. Any success I have known personally or via my students over the years is rooted in my having trained alongside them. Competitively speaking, the students I taught at Delta State University had an impressive tournament history, culminating in 1993.

The men's team won 1st place in team kata, team kumite and also 1st, 2nd, and 3rd place in individual kumite, during the ISKF Nationals & Collegiate Championships in Denver Colorado. Over the years, the DSU club produced several champions: Derek Vaught, Shawn Sullivan, Tony Kelly, Katrina Hall, Antiocious Johnson, Steven Davenport, Quintin Williams, Dennis Keyes, Jason Potts, Michael Smith, Kevin Adams, Joel Hart, Shane Cook and Brown Ray, and others, all won individual divisions in local, state, regional and national tournaments like the All South Karate Federation Championships, the ISKF Nationals & Collegiate Championships and the USAKF Nationals. I should apologize to anyone whose name I am not able to think of right now. I was blessed to have all of you as students! Here in Atlanta, I am very encouraged about the future of karate as I work with a great group of youngsters; and, I am inspired to continue training as I watch the "veteran" students in my club, many of whom are older than me, who always give 110% effort in class. So, to answer the question about success stories, I witness them every class; they are my students.
Q. What's next?
A. I'll keep training, learning, teaching and learning some more; I think that's the revolving cycle instructors should go through.
Q. Any final thoughts?
A. Yes. I read this in a pamphlet one night after class at the LSU dojo in Baton Rouge Louisiana. After experiencing a few classes you will realize that results do not come easily or instantly. In fact, months may pass where you feel you have not progressed at all. Techniques still feel awkward; you are sore; it's too hot or too cold. There may come a time when you feel you will never do it right and you think of quitting. It is at that time you need to know that this feeling will pass if you fight it; but, if you quit, all the past training is lost. To combat a slump, you must do one thing; resolve to train even harder-as hard as you can. Give your best in class; listen to the instructions and push yourself; make your body work, if only for an hour or so. Ask an advanced student to help you; they have all been there.

The benefits of karate are more than worth the extra effort required to weather this period of slack. In the future you will likely have other setbacks not related to karate such as illness, injury, or personal problems. You will find that if you have been able to overcome training slumps, you will be more prepared mentally to cope with any crisis. With a sincere appreciation of karate, one is somehow given a better grip on daily life. You have started what will hopefully be a long relationship with karate. Apply yourself totally to each class, read, ask questions and study at home. There is no short cut or easy way. Hard, intensive training over months and years will give a heightened sense of physical well being in addition to an improved mental confidence and awareness. Karate is not exclusively a method of unarmed combat. On a higher level it is a search to build character and self-discipline. It matures the body along with the mind. Indeed, the serious study of karate is a study of life itself. Keep training!
| Karate Rank | Date of Promotion | Examiner(s) | Location/Venue |
| --- | --- | --- | --- |
| 8th Kyu | Circa August 1978 | Takayuki Mikami | Greenville, MS |
| 7th Kyu | | Takayuki Mikami | Greenville, MS |
| 6th Kyu | | Takayuki Mikami | Greenville, MS |
| 5th Kyu | | Takayuki Mikami | Greenville, MS |
| 4th Kyu | | Takayuki Mikami | Greenville, MS |
| 3rd Kyu | | Takayuki Mikami | Greenville, MS |
| 2nd Kyu | | Takayuki Mikami | Greenville, MS |
| 1st Kyu | | Takayuki Mikami | Greenville, MS |
| Shodan | June 5, 1982 | Takayuki Mikami & Shigeru Takashina | Long Beach, MS/ASKF Summer Camp |
| Nidan | June 8, 1985 | Takayuki Mikami & Shigeru Takashina | Long Beach, MS/ASKF Summer Camp |
| Sandan | November 5, 1988 | Takayuki Mikami & Shigeru Takashina | Mobile, AL/ASKF Summer Camp |
| Yondan | June 20, 1993 | Motokuni Sugiura & ISKF Instructor panel | Green Lane, PA/ISKF Master Camp |
| Godan | June 13, 2005 | ISKF Instructor panel | Green Lane, PA/ISKF Master Camp |